Only available with Mailtrack Advanced. Upgrade here to unlock this feature.
You can automatically send a copy of your tracked emails from Gmail to your Client Relationship Manager (CRM). Mailtrack will automatically put your CRM in copy when you compose a new email.
How to set up an automatic copy of tracked emails to your CRM
Upgrade Mailtrack to a plan that includes CRM integration
Go to your Mailtrack settings
In the menu on the left, select "CRM Integrations".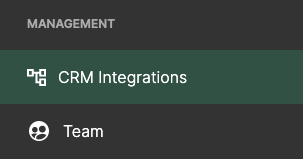 Select one of the CRM integration options and paste in your CRM's email forwarding address (also known as a BCC address) in the field provided. Your CRM's email address can usually be found in the settings.




Click "Save Settings".
Where to find your CRM's BCC or forwarding address
At the moment, Mailtrack supports integration with Salesforce, Hubspot and a few other CRMs. If you're not sure where to find your CRM's forwarding address, here are some links that might help:
Salesforce:
Hubspot:
Other CRMs
For other tools, we recommend going to your CRM's settings or searching for either "forwarding address" or "BCC address" in your service provider's help section.